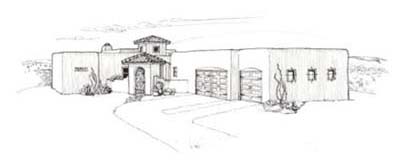 DESERT STONE CUSTOM HOMES, INC.
YOUR PREFERRED CUSTOM HOME DESIGNER AND BUILDER
David Jones of Desert Stone Custom Homes has 18 years of experience building custom homes in the Albuquerque and surrounding areas. David, himself, performs all of the hand crafted finish work in each of the homes we build. His attention to detail ensures that your home is built to exceed your expectations.
We limit our construction to just a few homes at a time, allowing Mr. Jones to provide the hands on management approach our clients expect. His years of experience working with the best craftsmen and suppliers in New Mexico provides for the highest quality, while constructing your home in the shortest possible time.
Our experience enables us to design a home to fit your exact specifications, or work with you on your own design to ensure you live in the home of your dreams. We have designed and constructed homes ranging from contemporary to traditional and everything in between, in all price ranges. Additionally, with our local knowledge of the real estate market, we can assist in the purchase of a lot that will fit your needs.
The homes designed and constructed by David Jones have won multiple awards from the Home Builder Association of New Mexico of which Desert Stone Custom Homes are proud members.
Licensed and Insured License # 81656